Selected Publications by ITS Faculty, Students and Alumni
Faculty
Aparna Dharwadker, Theatres of Independence: Drama, Theory and Urban Performance in India Since 1947 (Oxford University Press & University of Iowa Press, 2005)
Michael Peterson, Straight White Male: Performance Art Monologues (University Press of Mississippi, 2010)
Mary Trotter, Modern Irish Theatre (Polity Press, 2008)

Mary Trotter, Ireland's National Theaters (Syracuse University Press, 2001)

Mike Vanden Heuvel, Performing Drama/Dramatizing Performance (University of Michigan Press, 1993)
Mike Vanden Heuvel, Modern American Drama, Playwriting in the 1970s: Voices, Documents, New Interpretations (Bloomsbury, 2018)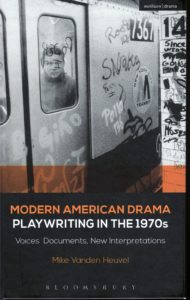 Manon van de Water, Theatre, Youth and Culture: A Critical and Historical Exploration (Palgrave Macmillan, 2012)
Manon van de Water, Moscow Theatres for Young People: A Cultural History of Ideological Coercion and Artistic Innovation, 1917-2000 (Palgrave Macmillan, 2006)
Alumni & Current Students

Carner, Niccole E., Zachary S. Carrol, Sharon C. Long. "A comparison of rapid bacterial methods to U.S. EPA-approved methods for biosolids" Water Environment Research: a research publication of the Water Environment Federation. July 2013.
Casey, Jeff. "Queer Cannibals and Deviant Detectives: Subversion and Homosocial Desire in NBC's Hannibal," Quarterly Review of Film and Video. 32.6 (2015).
Casey, Jeff and Peterson, Sandy. "Voicing Our Dissent: Theatre & Community after the Wisconsin Uprising," Theatre Topics 25.2 (June 2015).
Farrell-Wortman, Laura. "A Song About Survival: Talking Shop Ensemble's Devised Responses to the Debt Crisis." Devised Performance in Irish Theatre: Histories and Contemporary Practices. Charlotte McIvor and Siobhan O'Gorman, ed. Carysfort Press: Dublin, 2015.
Farrell-Wortman, Laura. "Michael West's Freefall and the Lens of Austerity." Populating the Contemporary Irish Stage. Anne Etienne and Thierry Dubost, ed. Cork University Press: Cork, 2015 (in press)
Farrell-Wortman, Laura. "The Riverdance Phenomenon and the Development of Irish Identity in the Global Era." Studies in Musical Theatre. 4.3 (2010): 311-320.
Peterson, Sandy. "Russian Mass Spectacle and the Bolshevik Regime." The Oxford Handbook of Dance and Theater. Nadine George-Graves, ed. Oxford University Press: New York, 2015.
Peterson, Sandy. "Talismans as Performative Devices of Resistance for Harry Potter Fans," Playing Harry Potter, ed. Lisa Brenner, McFarland & Co., Inc., forthcoming late 2015.
Manon van de Water, Mary McAvoy & Kristin Hunt, Drama and Education (Routledge, 2015)

Wood, Bethany. "Gentlemen Prefer Adaptations: Addressing Industry and Gender in Adaptation Studies." Theatre Journal. 66.4 (2014): 559-579.
Wood, Bethany. "Ol' (wo)man river?: Broadway's gendering of Edna Ferber's Show Boat." Studies in Musical Theatre. 4.3 (2010): 321-330.