BOOKS
Propaganda 1776: Secrets, Leaks, and Revolutionary Communications in Early America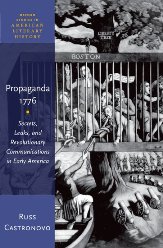 New York: Oxford University Press, 2014.

Propaganda 1776 reframes the culture of the U.S. Revolution and early Republic, revealing it to be rooted in a vast network of propaganda. Truth, clarity, and honesty were declared virtues of the period-but rumors, falsehoods, forgeries, and unauthorized publication were no less the life's blood of liberty. Looking at famous patriots like George Washington, Benjamin Franklin, Thomas Paine; the playwright Mary Otis Warren; and the poet Philip Freneau, Castronovo provides various anecdotes that demonstrate the ways propaganda was - contrary to our instinctual understanding - fundamental to democracy rather than antithetical to it. By focusing on the persons and methods involved in Revolutionary communications, Propaganda 1776 both reconsiders the role that print culture plays in historical transformation and reexamines the widely relevant issue of how information circulates in a democracy.
Beautiful Democracy: Aesthetics and Anarchy in a Global Era
Chicago: University of Chicago Press, 2007

The photographer and reformer Jacob Riis once wrote, "I have seen an armful of daisies keep the peace of a block better than a policeman and his club." Riis was not alone in his belief that beauty could tame urban chaos, but are aesthetic experiences always a social good? Could aesthetics also inspire violent crime, working-class unrest, and racial murder? To answer these questions, Russ Castronovo turns to those who debated claims that art could democratize culture--civic reformers, anarchists, novelists, civil rights activists, and college professors-to reveal that beauty provides unexpected occasions for radical, even revolutionary, political thinking.

Beautiful Democracy explores the intersection of beauty and violence by examining university lectures and course materials on aesthetics from a century ago along with riots, acts of domestic terrorism, magic lantern exhibitions, and other public spectacles. Philosophical aesthetics, realist novels, urban photography, and black periodicals, Castronovo argues, inspired and instigated all sorts of collective social endeavors, from the progressive nature of tenement reform to the horrors of lynching. Discussing Jane Addams, W.E.B. Du Bois, Charlie Chaplin, William Dean Howells, and Riis as aesthetic theorists in the company of Kant and Schiller, Beautiful Democracy ultimately suggests that the distance separating academic thinking and popular wisdom about social transformation is narrower than we generally suppose.
Necro Citizenship: Death, Eroticism, and the Public Sphere in the Nineteenth-Century United States

Durham: Duke University Press, 2001

In Necro Citizenship Russ Castronovo argues that the meaning of citizenship in the United States during the nineteenth century was bound to--and even dependent on-death. Deploying an impressive range of literary and cultural texts, Castronovo interrogates an American public sphere that fetishized death as a crucial point of political identification. This morbid politics idealized disembodiment over embodiment, spiritual conditions over material ones, amnesia over history, and passivity over engagement.

Moving from medical engravings, séances, and clairvoyant communication to Supreme Court decisions, popular literature, and physiological tracts, Necro Citizenship explores how rituals of inclusion and belonging have generated alienation and dispossession. Castronovo contends that citizenship does violence to bodies, especially those of blacks, women, and workers. ""Necro ideology," he argues, supplied citizens with the means to think about slavery, economic powerlessness, or social injustice as eternal questions, beyond the scope of politics or critique. By obsessing on sleepwalkers, drowned women, and other corpses, necro ideology fostered a collective demand for an abstract even antidemocratic sense of freedom. Examining issues involving the occult, white sexuality, ghosts, and suicide in conjunction with readings of Harriet Jacobs, Ralph Waldo Emerson, Frederick Douglass, Nathaniel Hawthorne, and Frances Harper, Necro Citizenship successfully demonstrates why Patrick Henry's "give me liberty or give me death" has resonated so strongly in the American imagination.

Those working in the fields of American studies, literature, history, and political theory will be interested in the social revelations and cultural connections found in Necro Citizenship.
Fathering the Nation: American Genealogies of Slavery and Freedom
Berkeley: University of California Press, 1995

Fathering the Nation examines competing expressions of national memory appearing in a wide range of mid-nineteenth-century artifacts, including slave autobiography, classic American fiction, monumental architechture, myths of the Revolution, proslavery writing, and landscape painting. While these images, icons, and fictions attempt to present an ordered, inspiring narrative of America, they also tell other stories that disrupt the nation. Arguing that even the most rigid representations, such as the Bunker Hill Monument and official legends of the founding fathers, are incoherent, Castronovo presents a geneology that recovers those members of the national family whose status challenges the body politic and its history. The forgotten orphans in Melville's Moby Dick and Israel Potter, the rebellious slaves in the work of Frederick Douglass and William Wells Brown, the citizens afflicted with amnesia in Lincoln's speeches, and the dispossessed sons in slave narratives all provide dissenting voices that provoke insurrectionary plots and counter-memories. Viewed here as a "miscegenation" of stories, the narrative of "America" resists being told in terms of an intelligible story of uncontested descent. National identity rests not on rituals of consensus but on repressed legacies of parricide and rebellion.