EDITED COLLECTIONS
The Oxford Handbook of Propaganda Studies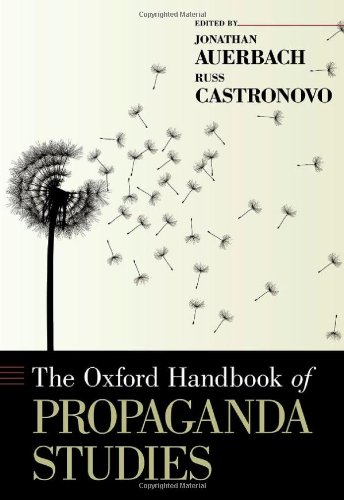 New York: Oxford University Press, 2014
Introduction: 13 Propositions About Propaganda
Derived from the word "to propagate," the idea and practice of propaganda concerns nothing less than the ways in which human beings communicate, particularly with respect to the creation and widespread dissemination of attitudes, images, and beliefs. Much larger than its pejorative connotations suggest, propaganda can more neutrally be understood as a central means of organizing and shaping thought and perception, a practice that has been a pervasive feature of the twentieth century and that touches on many fields. It has been seen as both a positive and negative force, although abuses under the Third Reich and during the Cold War have caused the term to stand in, most recently, as a synonym for untruth and brazen manipulation.
Propaganda analysis of the 1950s to 1989 too often took the form of empirical studies about the efficacy of specific methods, with larger questions about the purposes and patterns of mass persuasion remaining unanswered. In the present moment where globalization and transnationality are arguably as important as older nation forms, when media enjoy near ubiquity throughout the globe, when various fundamentalisms are ascendant, and when debates rage about neoliberalism, it is urgent that we have an up-to-date resource that considers propaganda as a force of culture writ large.
The handbook will include twenty-two essays by leading scholars from a variety of disciplines, divided into three sections. In addition to dealing with the thorny question of definition, the handbook will take up an expansive set of assumptions and a full range of approaches that move propaganda beyond political campaigns and warfare to examine a wide array of cultural contexts and practices.
The Oxford Handbook of Nineteenth-Century American Literature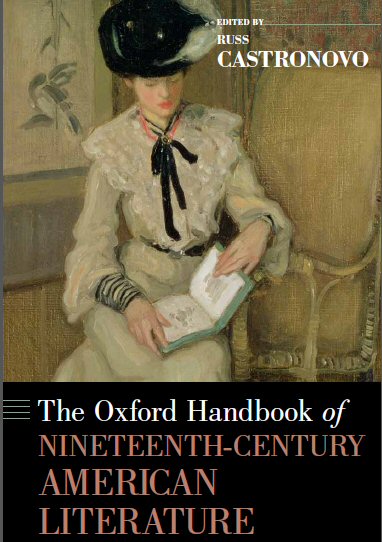 New York: Oxford University Press, 2012
How do we approach the rich field of nineteenth-century American literature? How might we recalibrate the coordinates of critical vision and open up new areas of investigation? To answer such questions, this volume brings together 23 original essays written by leading scholars in American literary studies. By examining specific novels, poems, essays, diaries and other literary examples, the authors confront head-on the implications, scope, and scale of their analysis. The chapters foreground methodological concerns to assess the challenges of transnational perspectives, disability studies, environmental criticism, affect studies, gender analysis, and other cutting-edge approaches.
The Oxford Handbook of Nineteenth-Century American Literature
is thus both critically incisive and sharply practical, inviting attention to how readers read, how critics critique, and how interpreters interpret. It offers forceful strategies for rethinking protest novels, women's writing, urban literature, slave narratives, and popular fiction, just to name a few of the wide array of topics and genres covered. This volume, rather than surveying established ideas in studies of nineteenth-century American literature, registers what is happening now and anticipates what will shape the field's future.
States of Emergency: The Object of American Studies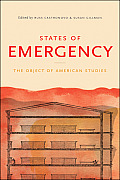 Co-edited with Susan Gillman
Chapel Hill: University of North Carolina Press, 2009

The contributors to this volume argue that for too long, inclusiveness has substituted for methodology in American studies scholarship. The ten original essays collected here call for a robust comparativism that is attuned theoretically to questions of both space and time.

States of Emergency asks readers to engage in a thought experiment: imagine that you have an object you want to study. Which methodologies will contextualize and explain your selection? What political goals are embedded in your inquiry? This thought experiment is taken up by contributors who consider an array of objects--the weather, cigarettes, archival material, AIDS, the enemy, extinct species, and torture. The essayists recalibrate the metrics of time and space usually used to measure these questions. In the process, each contributes to a project that redefines the object of American studies, reading its history as well as its future across, against, even outside the established grain of interdisciplinary practice.
Materializing Democracy: Toward a Revitalized Cultural Politics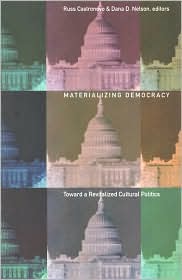 Co-edited with Dana Nelson
Durham: Duke University Press, 2002

For the most part, democracy is simply presumed to exist in the United States. It is viewed as a completed project rather than as a goal to be achieved. Fifteen leading scholars challenge that stasis in Materializing Democracy. They aim to reinvigorate the idea of democracy by placing it in the midst of a contentious political and cultural fray, which, the volume's editors argue, is exactly where it belongs. Drawing on literary criticism, cultural studies, history, legal studies, and political theory, the essays collected here highlight competing definitions and practices of democracy--in politics, society, and, indeed, academia.

Covering topics ranging from rights discourse to Native American performance, from identity politics to gay marriage, and from rituals of public mourning to the Clinton-Lewinsky affair, the contributors seek to understand the practices, ideas, and material conditions that enable or foreclose democracy's possibilities. Through readings of subjects as diverse as Will Rogers, Alexis de Tocqueville, slave narratives, interactions along the Texas-Mexico border, and liberal arts education, the contributors also explore ways of making democracy available for analysis. Materializing Democracy suggests that attention to disparate narratives is integral to the development of more complex, vibrant versions of democracy.